Cop32 DTH Drill Button Bits
COP32 DTH Drill Button Bits
1. High and low air pressure down-the-hole drill bits
2. Low air pressure holeDia.: 65-220mm
3. High air pressure hole Dia.: 85-305mm
4. Face type: Drop center/concave/convex/double gauge/flat
5. Our DTH Bit can be suitable for many types of DTH Hammer, such as XL, Mission, COP, IR, Mach, Demag, SD, Bulroc, Halco Mach, Digger etc.
6. Inch available: 3", 4", 5", 6", 8", 12", etc...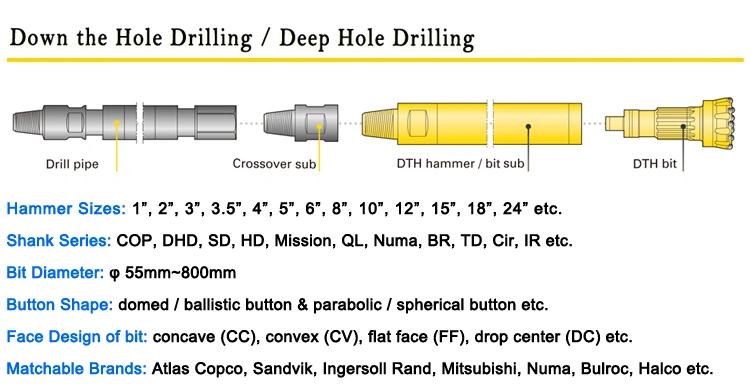 High pressure dth bit
DTH bit is our company main product. After mang years search, we have rich experience in development and manufacture which adopted high-quality raw materials, advanced craft technology and passed through strictly inspection, manufacturing high quality products.
If you interested in our product please contact freely.
Some BITS for referance

Hammer: COP 32

Diameter mm

Part No.

Buttons x Button diam(Gauge outer, Gauge inner, Centre, Cone)

Gauge buttons angle o (Outer, Inner, Cone)

Flushing holes (No. x size mm)

Weight approx. kg

Foot valve Part No.

Flat front, HD

85

100-5085-39,24-20

8x11, - ,6x11, -

35, -, -

2

4.5

90

100-5090-39,24-20

8x11, - ,7x11, -

35, -, -

2

4.7

100

100-5100-39,24-20

8x11, - ,7x11, -

35, -, -

2

4.9

SpeedBit

85

100-5085-39-55,24-20

8x11, - ,6x11, -

35

2

4.5

90

100-5090-39-55,24-20

8x11, - ,7x11, -

35

2

4.7

100

100-5100-39-55,24-20

8x11, - ,7x11, -

35

2

4.9

Convex front, Ballistic

85

100-5085-39-61,24-20

7x11, 4x11, 2x11, -

40, 20, -

2

4.3

90

100-5090-39-61,24-20

7x11, 4x11, 2x11, -

40, 20, -

2

4.5

100

100-5100-39-61,24-20

7x11, 4x11, 2x11, -

40, 20, -

2

4.7

Hammer: Bulroc 3

Diameter mm

Part No.

Buttons x Button diam(Gauge outer, Gauge inner, Centre, Cone)

Gauge buttons angle o (Outer, Inner, Cone)

Flushing holes (No. x size mm)

Weight approx. kg

Foot valve Part No.

Convex front, Ballistic

100-5090-45-61,24-20

7x11, 4x11, 2x11, -

40, 20, -

2

4

Hammer: COP 34, 34Q

Diameter mm

Part No.

Buttons x Button diam(Gauge outer, Gauge inner, Centre, Cone)

Gauge buttons angle o (Outer, Inner, Cone)

Flushing holes (No. x size mm)

Weight approx. kg

Foot valve Part No.

Flat front, HD

90

100-5090-31,24-20*

8x12.7, - ,7x11, -

35, - , -

2

5.8

9279

92

100-5092-31,24-20

8x12.7, - ,7x11, -

35, - , -

2

5.8

9279

95

100-5095-31,24-20

8x12.7, - ,7x11, -

35, - , -

2

5.9

9279

100

100-5100-31,24-20

8x12.7, - ,7x12.7, -

35, - , -

2

6.1

9279

105

100-5105-31,24-20

8x14.5, - ,7x12.7, -

35, - , -

2

6.3

9279

SpeedBit

92

100-5092-31-55,24-20

8x12.7, - ,7x11, -

35

2

5.8

9279

95

100-5095-31-55,24-20

8x12.7, - ,7x11, -

35

2

5.9

9279

100

100-5100-31-55,24-20

8x12.7, - ,7x12.7, -

35

2

6.1

9279

105

100-5105-31-55,24-20

8x14.5, - ,7x12.7, -

35

2

6.3

9279

Convex front, Ballistic

92

100-5092-31-61,24-20

7x12.7, 4x12.7, 2x12.7, -

40, 20, -

2

5.8

95

100-5095-31-61,24-20

7x12.7, 4x12.7, 2x12.7, -

45, 30, -

2

5.9

100

100-5100-31-61,24-20

7x12.7, 4x12.7, 2x12.7, -

45, 30, -

2

6.1

105

100-5105-31-61,24-20

7x14.5, 4x14.5, 2x14.5, -

45, 30, -

2

6.3

Hammer: COP 42

Diameter mm

Part No.

Buttons x Button diam(Gauge outer, Gauge inner, Centre, Cone)

Gauge buttons angle o (Outer, Inner, Cone)

Flushing holes (No. x size mm)

Weight approx. kg

Foot valve Part No.

Flat front, HD

105

100-5105-60,24-20

8x14.5, 7x12.7, -

35

2

7.5

110

100-5110-60,24-20

8x14.5, 7x12.7, -

35

2

8.2

115

100-5115-60,24-20

8x14.5, 8x12.7, -

35

2

8.4

130

100-5130-60,24-20

8x14.5, 10x12.7, -

35

2

9.3

140

100-5140-60-1218,08-20

8x14.5, 9x12.7, -

35

2

9.3

SpeedBit

105

100-5105-60-55,24-20

8x14.5, - ,7x12.7, -

35

2

7.5

115

100-5115-60-55,24-20

8x14.5, - ,8x12.7, -

35

2

8.4

Convex front, Ballistic

105

100-5105-60-61,24-20

7x14.5, 4x14.5, 2x14.5, -

40, 20, -

2

7.5

110

100-5110-60-61,24-20

7x14.5, 4x14.5, 2x14.5, -

40, 20, -

2

7.8

115

100-5115-60-61,24-20

7x14.5, 4x14.5, 3x14.5, -

40, 20, -

2

8

130

100-5130-60-61,24-20

9x12.7, 6x12.7, 5x12.7, -

40, 20, -

2

9

Hammer: COP 44,440 Ingers oil-Rand DHD 340A, DH4, Minroc 4 valveless, Compair Holman VOL 400

Diameter mm

Part No.

Buttons x Button diam(Gauge outer, Gauge inner, Centre, Cone)

Gauge buttons angle o (Outer, Inner, Cone)

Flushing holes (No. x size mm)

Weight approx. kg

Foot valve Part No.

Flat front, HD

105

100-5105-34,24-20

8x14.5, - ,7x12.7, -

35, - , -

2

8.6

110

100-5110-34,24-20

8x14.5, - ,7x12.7, -

35, - , -

2

8.7

115

100-5115-34,24-20

8x14.5, - ,8x12.7, -

35, - , -

2

9

125

100-5125-34,24-20

8x14.5, - ,10x12.7, -

35, - , -

2

10.5

130

100-5130-34,24-20*

8x14.5, - ,10x12.7, -

35, - , -

2

11

140

100-5140-34-1218,08-20*

8x16.0, - ,9x14.5, -

35, - , -

2

11.5

Hammer: COP 44,440 Cont.

Diameter mm

Part No.

Buttons x Button diam(Gauge outer, Gauge inner, Centre, Cone)

Gauge buttons angle o (Outer, Inner, Cone)

Flushing holes (No. x size mm)

Weight approx. kg

Foot valve Part No.

SpeedBit

110

100-5110-34-55,24-20

8x14.5, - ,7x12.7, -

35, - , -

2

8.7

9237

115

100-5115-34-55,24-20

8x14.5, - ,8x12.7, -

35, - , -

2

9

9237

125

100-5125-34-55,24-20

8x14.5, - ,10x12.7, -

35, - , -

2

10.5

9237

130

100-5130-34-55,24-20

8x14.5, - ,10x12.7, -

35, - , -

2

11

9237

Convex front, Ballistic

105

100-5105-34-61,24-20

7x14.5 4x14.5 2x14.5, -

40, 20, -

2

8.2

9237

110

100-5110-34-61,24-20

7x14.5 4x14.5 2x14.5, -

40, 20, -

2

8.4

9237

115

100-5115-34-61,24-20

7x14.5 4x14.5 3x14.5, -

40, 20, -

2

8.5

9237

115

100-5115-34-2234,08-20

8x12.7 4x12.7 3x12.7, -

45, 30, -

2

9

9237

125

100-5125-34-61,24-20

9x12.7 6x12.7 5x12.7, -

40, 20, -

3

9.1

9237

130

100-5130-34-61,24-20*

9x12.7 6x12.7 5x12.7, -

40, 20, -

3

9.3

9237

Reaming bit for 104-115 mm pilot holes

165

100-5165-34-9102,08-20

14x16

35

2

15.9

9237

For more information, pls contact us:


Phiger Leo
Direct Line: 0086-137-6419 5009
WeChat: +86-137-6419 5009
WhatsApp: +86-137-6419 5009
================================================================
ROSCHEN@ INC.
ROSCHEN@ GROUP LIMITED
ROBERT ROSCHEN@ LIMITED
ROSCHEN@ HOLDINGS LIMITED
HEFEI ROSCHEN@ TOOL CO., LTD.
ROSCHEN@ GEOLOGICAL TOOL CO.,LTD.
SHANGHAI ROSCHEN@ INTERNATIONAL CO., LTD.
ROSCHEN@ GEOLOGICAL INSTRUMENTS CO., LTD.
EMAIL: roschen@roschen.com ; roschen@roschen.net
Website: http://www.roschendrill.com
http://www.roschenmining.com
http://www.roschendrilling.com
http://www.explorationcoredrilling.com
http://www.roschen.net
http://www.roschen.cn
http://www.roschen.com
================================================================