Aq Bq Nq Hq Pq Impregnated Diamond Drill Core Bits


Brief Introductions of Impregnated Diamond Bits

The impregnated diamond bits are cutting tools. They contain diamond segments bonded to a base material. They are widely applied in cutting non-ferrous materials. The selected grades of synthetic diamond of high quality are distributed in the depth of impregnated bit's matrix series. The matrix layer of the crown contains a uniform distribution of these crystals that are embedded in a powdered metal bond. This diamond tool is widely applied in the mineral exploration industry.


Features of Impregnated Diamond Bits:

1. This diamond tool features with fast penetration rate, because the matrix of our impregnated diamond bits is specially designed (it is designed to expose new diamonds to the bits' cutting face as wear occurs).
2. Can help reduce the cost for diamond drilling: our impregnated diamond bits are manufactured to give optimum penetration rates and service life.
3. The hardness and abrasiveness of the formation to be drilled largely determined the optimum diamond size, concentration and matrix type, etc.


Sizes: BQ NQ HQ PQ NQ3 HQ3 PQ3 PCD Coring Bits / PDC Core Bit
Sizes of PDC Cutters: 1304, 1308, as required. PCD/PDC cutters are available in several sizes and grades
Quantity of PDC Cutters: 4,5,6,8,10, can be customized as required
MOQ: 1PC
Standard: DCDMA, equivalent to boart longyear, Atlas Copco

Advantages:
PCD/PDC diamond core drill bits are cost effective for drilling in soft to medium sedimentary formations which are homogeneous and competent.
Packing: suitable for export shipping
Descriptions:

Polycrystalline Diamond bits that use larger cylindrical shaped cutters that consist of a layer of micron-sized synthetic diamond particles that are mounted on a tungsten carbide substracte.
PDC / PCD Bits are recommended for use when drilling relatively sofet, abrasive, unconsolidated sedimentary formations that are not effectively drilled by surface-set diamond bits. The formation types may range from very soft clay, gypsum or talc to harder types of sandstones. The difference between the various types of PDC / PCD bits is in the degree of cutter exposure and the density (or number) of cutters mounted on the face of the bit.
Basic Info:
Original: Wuxi, China
Certification: ISO9001
Price: Negotiable
Model No: AQ3 BQ3 NQ3 HQ3 PQ3 AWL3 BWL3 NWL3 HWL3 PWL3
Usage: Wireline core barrel parts
Payment Term: TT, LC
Delivery Date: Negotiable
Packing: export standard
Standard: DCDMA
MOQ: 1 PC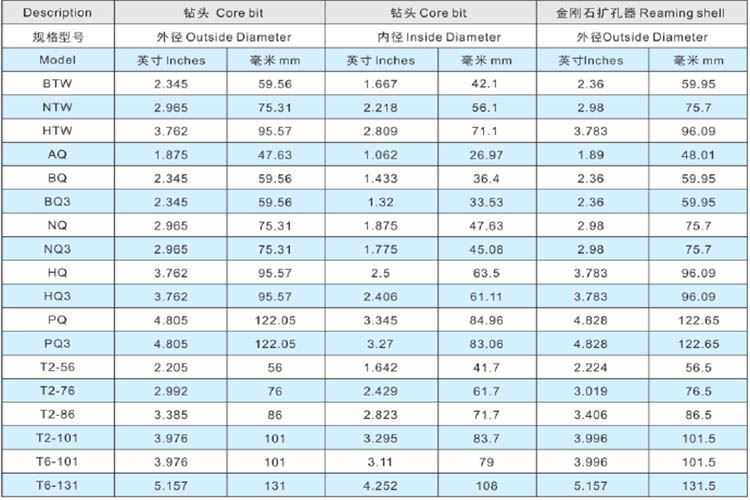 Advantages of PCD/PDC Drill Bit:
Fast penetration
Strong abrasion resistance
Good performance for rock formations
No special demands for equipment
Long service life
Package and Shipping:

Package:
wooden cases, cardboard boxes and steel frames etc. as you required. And all goods will be protected by plastic films, thread protection caps, anti-rust oils, bubble films and so on to make sure no damage will be caused during shipping.
Shipping:
Special passage for container loading is available at the gate of our company to improve the efficiency.


Available Size for our Impregnated Diamond Bits

"Q" series:

AQ, BQ, NQ, HQ, PQ/AQTK, BQTK, BQ3, NQ2, NQ3, NQTT, HQ3, HQTT, PQ3, PQTT

T2 series:

T2 46, T2 56, T2 66, T2 76, T2 86, T2 101

T6 series:

T6 76, T6 86, T6 101, T6 116, T6 131, T6 146, T6S 101, T6S 116

T series:

T36, T46, T56, T66, T76, T86

Z series:

Z46, Z56, Z66, Z76, Z86, Z101, Z116, Z131, Z146

B series:

B36, B46, B56, B66, B76, B86, B101, B116, B131, B146

WF series:

HWF, PWF, SWF, UWF, ZWF

WT series:

RWT, EWT, AWT, BWT, NWT, HWT

WM series:

EWM, AWM, BWM, NWM, HWM

WG series:

EWG, AWG, BWG, NWG, HWG

Triple Tube core barrel:

BLMC, NMLC, HMLC,3C, 4C, 6C, 8C, 10C, 12C, 14C, 16C, 18C, 20C

LTK series:

LTK48, LTK60

GM series:

BGM, NGM, HGM, ADBG,

BW Series:

TBW, TNW,

TW Series:

ATW, BTW, NTW, HTW, PTW

Others:

NXD3, AX, NX, NXC, AXT, T6H, 4 9/16, NWD4, 412F, SK6L146, TT46, TB56, TS116, CHD101

Chinese series

S75, S89, S95, S101, S115, S131, S146



About Us:
We specialized in producing of varies diamond drilling tools, such as impregnated/surface-set diamond core bits, diamond casing shoes, diamond rod shoes, reaming shells, TC core bits/casing shoes/TC rod shoes, PDC bits, Thin Wall Bits, core lifters, core lifter cases, core barrels, and kinds of drilling rigs etc.
With ISO certificate & quality control.
Our Advantages:
a. Extensive Production Experience: we are specialized in diamond core bits,drill bits,wireline drilling tools,drill pipes,casings,mud pumps, underground drilling rigs with an experience of 30 years.
b. Complete Production Facilities: owning precision CNC machine, Milling machine, Sintering machine, Manipultator and other advanced equipments. Our technicians will do regular scheduled maintenance on these machines to guarantee them work well.
c. High Quality Raw Material: we mainly choose raw material from big steel factory, such as TPCO, BAO STEEL, SHA STEEL, which are best and largest raw material manufacturer in China.
d. Strict Physical/Chemical Testing Procedures: meeting the requirements of the product design and process, providing reliable testing data.
e. Short Delivery Time: If one container 15-20 days. We also stock some standard-sized tubes and rods, if you need 3-5 pcs, we can delivery soon.
f. Safe Packing: anti-rust oil be spread on tubes and rods before shipping, plastic caps on tube ends to protect inside surface, each rod be protected with cardboard tube. Finally be packed with seaworthy package or in wooden case.
g. Best After-Sale Service: Over 60% products are sold to the Southeast Asia, Middle East and Europe, and all products are trusted by domestic and foreign customers.

Our Services:
Ø Provide the technical design and solutions;
Ø Designing and manufacturing of non-standard equipment;
Ø Professional technical training and guidance on site according to the contract;
Ø Supply accessories at any time;
Ø Tele-technical consulting and services;
Ø Other special technical service according to client's requirements.